6 Sleeves Credit Card Holder | Pocket for Cards, Money & ID
Vegan Leather | Travel, Work & Life Proof
EVERYTHING AT YOUR FINGERTIPS: Keys? Cellphone? Wallet? Got em all! Once this wallet is installed on the back of your phone case you're ready to live life with ease. Thin & minimal this stick on wallet holds it all while keeping a slim design: .25 an inch when empty and .5 an inch when full. Compatible with most phone cases, fit your ID, credit cards, and money inside, while your keys attach to a reinforced elastic strap.
UNMATCHED DURABILITY:​ Don't skimp by going with a thinner product. There's nothing out there that can meet the needs of your mobile lifestyle like this smart wallet can. It's built in stand lets you take conference calls on the fly, leaving you handsfree for note taking, typing or coffee sipping. Your new wallet has been reinforced with synthetic fibers that make it truly waterproof. Coffee spills, bathrooms get wet and...life happens. But now your wallet can be ready for it all.
REINFORCED SECURITY:​ Keep your valuable credit cards, ID and money tightly bound inside your wallet with the built-in elastic band. Wireless charger? No problem. Just remember to keep all cards inside a sleeve or pocket to the left, open up the wallet and place it down on the charger. That way your wireless charging phone is never denied a speedy charge. Bonus feature: Securely store your eLusefor reading glasses in the easy access slot; now they're quick and ready for reading any menu or email.
SIMPLY SEIZE THE DAY​: Your phone and wallet should work with you to make life easier, not add stress or concern when they're forgotten or misplaced. This stick on card holder was created for everyone from busy moms & dads, to jet-setting business people. Make life simple and focused again with more time for what truly matters. With this wallet on your phone you keep your most important items in check so you can be more present for friends, family and doing more of what you love.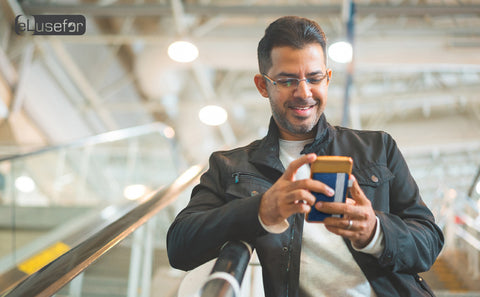 OUR CUSTOMER COME FIRST: 

When we set down to build this adhesive wallet, we tried to think of absolutely everything you would need it to do... and then do it better than we've ever seen done before. So, it should come at no surprise that we're not happy until you are. Purchase your new wallet with 100% confidence that at eLusefor we will always do everything reasonable and within our power to make sure you're absolutely thrilled with your purchase. That's the eLusefor promise.